I am not a vidder. I make no claims to be. But sometimes I just get the urge to chop up movies and TV shows and set them to music when I get hit by an idea.
For example, I felt like putting together a tribute video for
The Glee Project
last weekend. It took fifteen hours and caused my program to crash more times than I can count, but I'm actually rather proud of the result. It's just a fun little tribute to the wonderful people who took part in the second season, and while there was a lot of footage I didn't get around to using - because there were so many great moments - I'm very happy with what I've ended up with.
Set to "Tonight Tonight", by Hot Chelle Rae, as covered by the cast of
The Glee Project
, season two.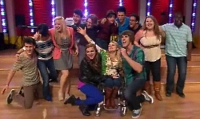 Linked because LJ doesn't like embedded videos:
http://www.youtube.com/watch?v=PpkeMv5KM9w
And low quality because my upload bandwidth is even more limited than my download bandwidth, and with
Glee
coming back this month I don't want to run out of bandwidth, but you get the idea at least.